We are delighted to announce the Courtlough Shooting Grounds – Summer League for 2020 is starting this Wednesday July 8th. We have 2 AMAZING SHOTGUNS to be WON, a Beretta 694 and a Beretta 686 White Onyx.
The Beretta 694 will be the main prize to be won at the Grand Final shoot on Sunday, September 20th. All entrants with 7 scores entered will be entered into the Beretta 686 Prize Draw (please note the winner of the Beretta 694 will not be entered into the Prize Draw).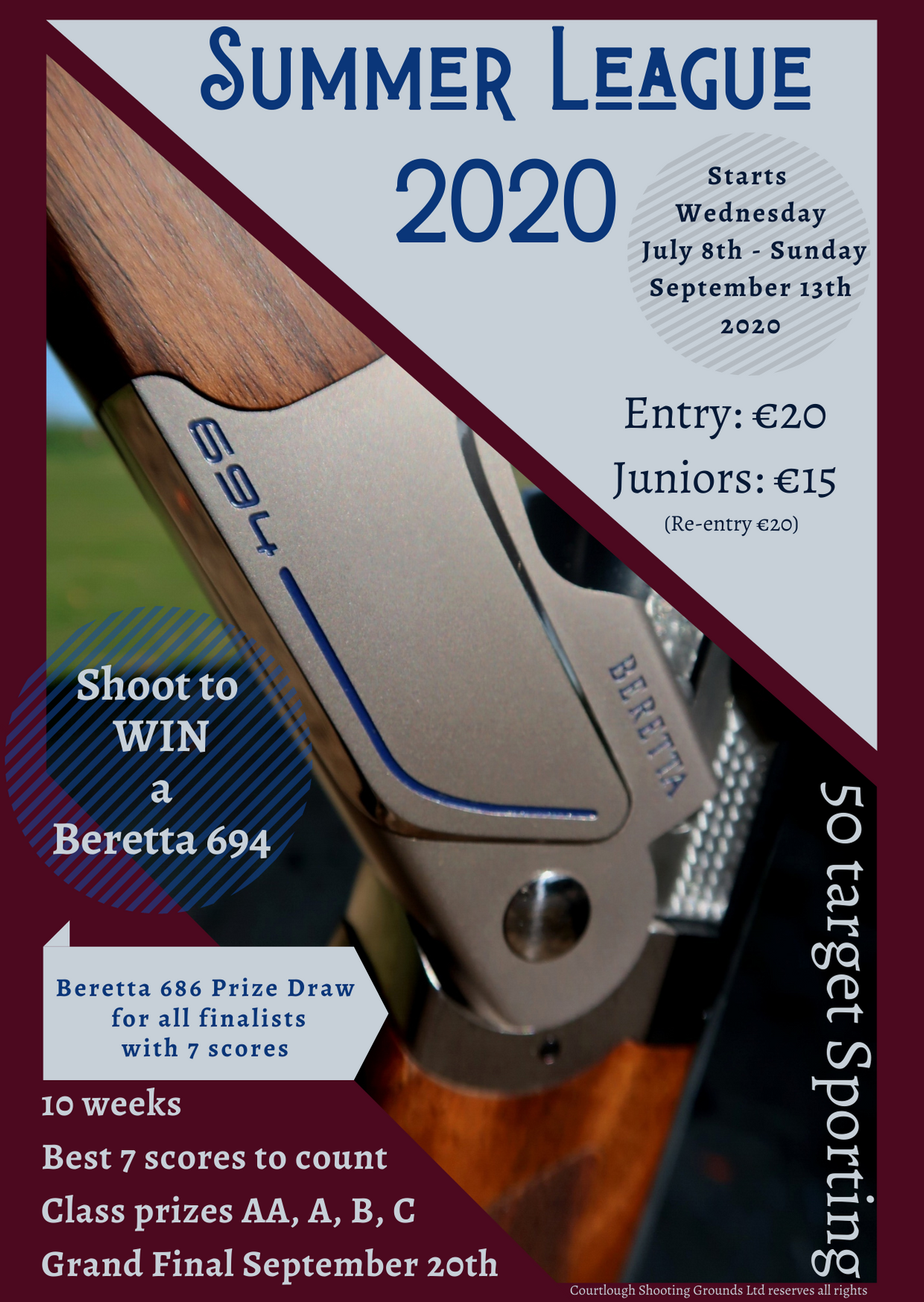  Commences Wednesday 8th July – Sun 13th Sept.
 Open to all shooters with a current & valid Firearms Licence &
Insurance, proof of which must be carried at all times and
produced if requested to by any member of the Courtlough Shooting Ground's staff.
 Running for 10 weeks, Grand Final to be held on Sunday 20th September 2020.
 7 weekly scores must be entered to qualify for class prizes, draw & Grand Final.
 50 bird Sporting course set over 5, 6, or 7 stands.
 Entry €20, Re-entry €20 – Highest score to count.
 Open to shoot from Wednesday to Sunday weekly.
 Club Handicap system based on Leinster Inter Club league scores
2019/2020 classification or for unclassified shooters – after first 3 scores
submitted. (H'Caps AA=0, A=+1, B=+3, C=+6).
 The club reserves the right to reclassify a shooter.
 Squads will be a minimum of 3 shooters and maximum of 6.
 Social Distancing Guidelines & Hand Sanitising to be
adhered to.
 Errors in published scores must be notified to the club
on email before the start of the next weeks round
otherwise we cannot amend the score.
 Semi auto shotguns must be flagged & shells collected
from each stand after shooting.
 Courtlough Shooting Grounds Decision is Final
 Remember, Safety starts with you.
 Eye & Ear Protection must be worn at all times
Shoot well & Enjoy.
The Courtlough Team